News
Baby Jungle GYM Aggravates Kids' Ability in Facing with Frustrations
Views: 1317 Update date: Dec 26,2017
Every one is created equal but differently by God, and the difference is especially obvious among kids, of these differences, the most distinctive one is their character. Some kids are outgoing and brave, who are afraid of nothing, while others are shy and quite who are always reluctant of trying anything new and exciting. However, their difference in character is not a very serious blockade to their success, actually, their gut in facing with frustrations is, which is not doubt an important factor to meritocracy. So where to aggravate their ability in facing with frustrations while they are too young to get some harsh training? I think the baby jungle gym will be a good way to go. An indoor jungle gym is never a place filled with joy, but also bitterness, however, bitterness is the best lesson from which children can learn how to deal with frustration. If you don't believe that, take your kids to the indoor playground to prove it!
For one thing, baby jungle gym provides them with the chance to deal with situation while their parents are not around. Most kids get into the habit of relying on their parents to give them assistant whenever facing with frustrations, which do hinder their ability of being independence and guts of facing with frustrations, they need a chance to grow up by themselves instead of being company by parents in the process of growing up. Indoor playground will be a perfect to let them go and have them do what they want; they'll take the responsibility of getting hurt because it is their own choice of what to play.
For another, baby jungle gym makes children gradually realize that pain is part of their life that they are supposed to bear. It's common to see kids burst out crying when falling onto the ground and get themselves hurt, few of them will get up by themselves but keep on lying on the ground, waiting for the coming of their parents to pick them up and give them comfort. However, this is exactly not a good way to educate them to be strong when facing with frustrations. The best way is to stand by, giving them encouragement and have them known that there is some pain that they must have to bear. So the baby jungle gym will provide you a good chance to do this.
To summarize, instead of indulging your kids in staying at home all day lone, it's better to have them learn something of great use in their life in the baby jungle gym. The earlier they acquired the ability dealing with frustrations, the better it is for their growth. So as far as I'm concerned, indoor playground is a necessity for kids.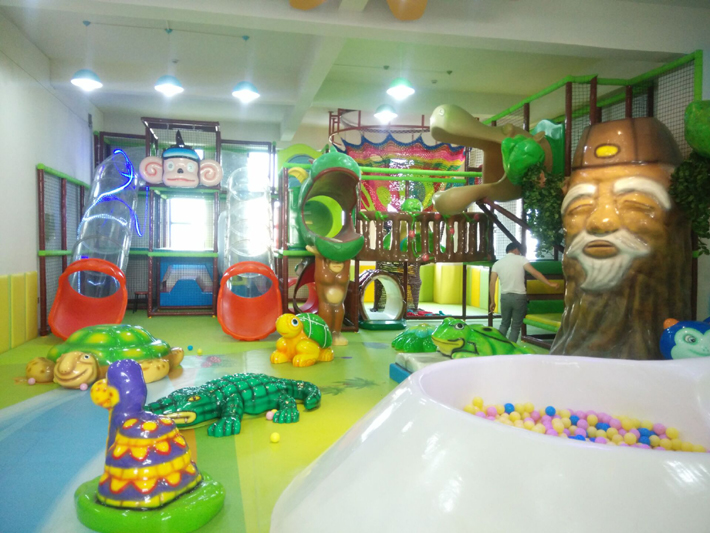 Copy right by Angel playground equipment©, please site the origination when you quote the information!
Comments

Lyndsie Montgomery Says:
We are looking for an indoor playground for our church.

Angel Playground Equipment CO.,LTD Says:
We will contact you by email And share you some models

Ash Says:
Hello there... do u help someone to start the business with kids indorr playground including all different kind of theme example jungle, science, disco, farm and more. Do u know the process?

Angel Playground Equipment CO.,LTD Says:
We will share you more information by email. Thanks for contact us!

Othan Says:
I would like to know the price for Code: A1623 Code: D1618Code: D1620 and if you ship to the Caribbean

Angel Playground Equipment CO.,LTD Says:
Hi Dear Jane will give you the quotation and check the shipping cost for you as soon as possible.

Blat Says:
I am interest in the soft playground, please give me more details.

Angel Playground Equipment CO.,LTD Says:
Jane will contact you as soon as possible

prudence bakare Says:
am looking for an indoor play equipment for special children .

Angel Playground Equipment CO.,LTD Says:
We will share you more information of indoor playground to your email
Leave a Reply
Your Phone & Email address will not be published. Required fields are mareded*