News
Does Indoor Jungle Gym can Help Kids Learn Foreign Language
Views: 1280 Update date: Dec 29,2017
It is acknowledged by most people that anyone who want to achieve success in this competitive society has to acquire the ability of speak a foreign language. The limited knowledge of his own mother language is not enough for them the keep up with the development of the world. Therefore, there are many parents who send their kids to some private schools or find them a tutor to help them with language learning. However, despite the effort they have made, little progress can kids make in foreign language learning. Why? I think the main reason lies in the fact that kids show little interest in the dull study of a totally different language. But if we turn language into a kind of game in the indoor jungle gym, things would be much different. In a word, indoor jungle gym spurs children's interest to learn.
Florist of all, let's take young kids for example. Did they speak their mother language by using a grammar book or dictionary? Of course not. They learn their mother language by imitating other. They see the necessity of speaking the words so other people can understand why they are saying. While the foreign language, an accessory tool which means little in their life, failed to trigger their motivation to obtain it. Therefore, we must have to find some other way to make language learning more interesting, then the language games organized in indoor jungle gym will be the best solution to that problem.
Secondly, the advantages of language activities held in indoor jungle gym outweigh its disadvantages. On the one hand, if kids can get access to language training through doing activities in the indoor jungle gym, then a lot of money and time can be saved by cutting the expense for private tutors and saving the time to send them to classes and picking them up after classes. Since playing and studying can be done at the same time, it therefore gratify both parents and kids.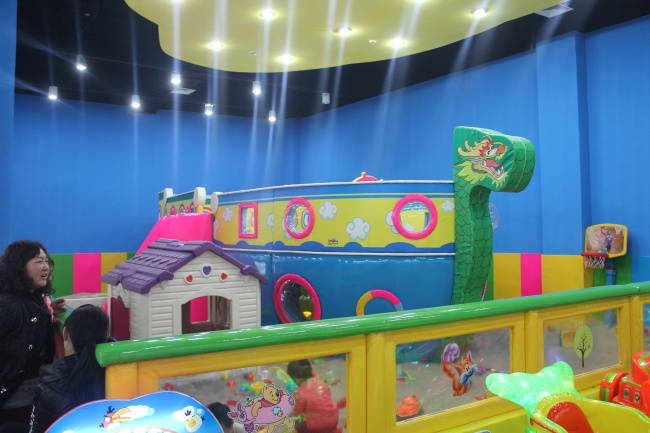 Last but not least, kids can learn faster and more efficiently in indoor jungle gym than at quiet classes with strict teacher asking them to finish a lot of tasks. Kids are born to like playing but not studying, too much pressure and restriction will lead to some contrary effect that will hinder their further study. The attitude parents should take now is not to expect them to acquire accelerant skill in speaking a foreign language, but to cultivate their interest in learning it.
In conclusion, setting up language activities in the indoor jungle gym is an efficient way to benefit all the three parties involved. Therefore, I believe that kids will do a better job in acquiring a foreign language in the indoor jungle gym than in any other places.
Copy right by Angel playground equipment©, please site the origination when you quote the information!
Comments

Lyndsie Montgomery Says:
We are looking for an indoor playground for our church.

Angel Playground Equipment CO.,LTD Says:
We will contact you by email And share you some models

Ash Says:
Hello there... do u help someone to start the business with kids indorr playground including all different kind of theme example jungle, science, disco, farm and more. Do u know the process?

Angel Playground Equipment CO.,LTD Says:
We will share you more information by email. Thanks for contact us!

Othan Says:
I would like to know the price for Code: A1623 Code: D1618Code: D1620 and if you ship to the Caribbean

Angel Playground Equipment CO.,LTD Says:
Hi Dear Jane will give you the quotation and check the shipping cost for you as soon as possible.

Blat Says:
I am interest in the soft playground, please give me more details.

Angel Playground Equipment CO.,LTD Says:
Jane will contact you as soon as possible

prudence bakare Says:
am looking for an indoor play equipment for special children .

Angel Playground Equipment CO.,LTD Says:
We will share you more information of indoor playground to your email
Leave a Reply
Your Phone & Email address will not be published. Required fields are mareded*