News
How to Make Indoor Jungle Gym More Attracting to both Kids and Parents
Views: 1423 Update date: Dec 29,2017
Indoor jungle gym, in order to keep pace with the growing economy and the more civilized society, is in attempting to apply more interesting elements to cater for the need of children. The successful alternation will no doubt bring indoor jungle gym with a bright future by getting their playground filled with happy kids all the time. These alternations include the change of environment, the refreshment of playing equipment as well as the way in which it educates kids. In order to group all these elements together to make the baby jungle gym a perfect whole and make itself distinct from others, it actually has a very long way to go.
First of all, let's talk about how a changing environment will be more attractive to kids. We all know that kids are afraid of strange and new things, it took them quite a while to get themselves adapted to a new environment. Therefore, what indoor Jungle gym is to try its best to decorate the whole place in a friendly and lovely way. Using materials that children are familiar with. Even those trifle parts that would be neglected by people at large. In a word, the intention of the indoor playground is to make children feel at home when they are having fun.
The next step is the choose of playing equipment, equipment should not only be colorful, but also need to be soft and comfortable so that kids would not be easily hurt while playing. The sound of crying given out by kids is no doubt the most annoying part of an jungle gym, because the action of crying is infectious, one a kids started crying, there will must be another one not far away. Thus the whole playground would get into the trouble of the pervading crying to make everything messes.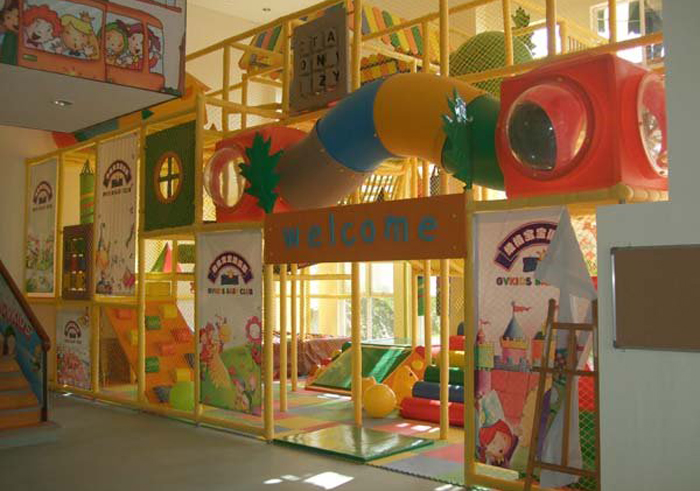 The last part of the alternation is the way indoor jungle gym babysitters educate kids. It is essential to hire outgoing and genial stuff rather than dull and harsh ones. Kids feeling afraid strict babysitters would not have a good time playing. Meanwhile, the stuff should be trained at a certain period of time to make sure that acquire the efficient and up-to-date way of education. They should be well informed of useful information about new things so they won't be trite teachers.
In conclusion, though indoor play jungle gym has been already filled with enough attraction, it should nevertheless stop it's step of going forward, it's never too much to make itself better developed with our society.
Copyright Reserved by Angel Playground Equipment Co.,Ltd.
Comments

Kitty Says:
Looking for more information on prices and the process of purchasing.

Angel Playground Equipment CO.,LTD Says:
Thanks for your leave us message online, Janson will reply you inquiry very soon. Thanks!

Tomy Says:
Send me a quote for your equipment

Angel Playground Equipment CO.,LTD Says:
Hi Dear Thank you for contact Angel playground. We will share you our catalogue and quotation to your email.

Rhonda Says:
Good morning Please could you send me your prices for the small soft play set-ups. We need delivery to Abu Dhabi please.

Angel Playground Equipment CO.,LTD Says:
Hi Dear We will send the quotation of soft play to your email. We have done many project over 75 countries, we will share you some models.

Rob Says:
HI - We have a 150 sqm Space in Spain and we want to know approximate pricing of fitting out our play area. How best to calculate this? Thank you,

Angel Playground Equipment CO.,LTD Says:
Hi Dear We will share you some project in 150sqm to your email. And send you the process of the indoor playground. We have done many projects over 75 countries.

Joel Says:
hi i want to build an indoor playground around 5000sqf. so can you please help on this project... thank you

Angel Playground Equipment CO.,LTD Says:
Dear We will send the process of indoor playground and some real projects for you to make a reference.
Leave a Reply
Your Phone & Email address will not be published. Required fields are mareded*