Jungle Theme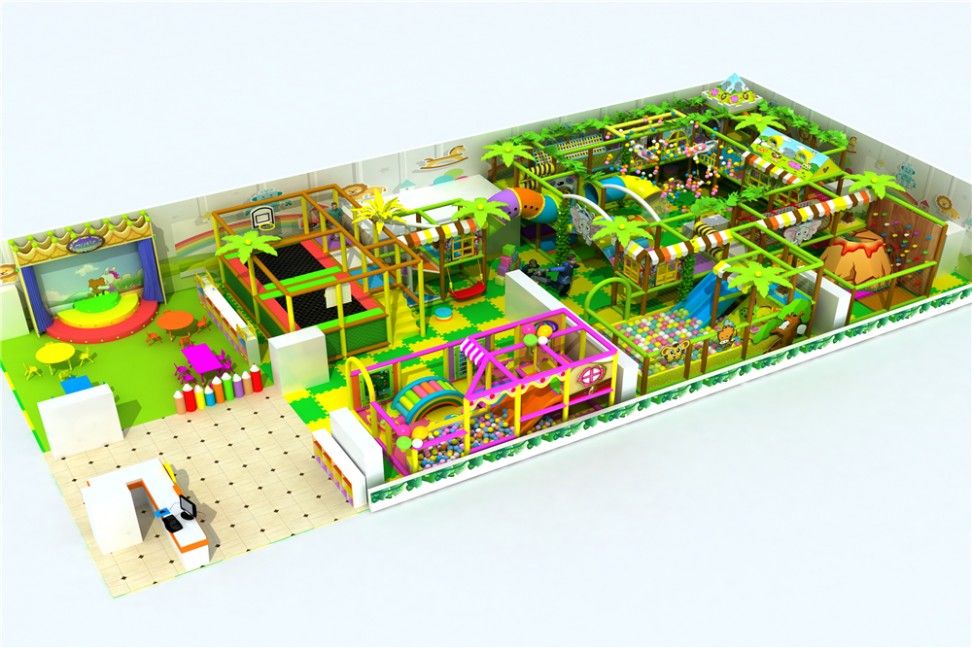 Specifications
Playground Sets
Code: 60829
Size(CM): 3180x1030x300
Size(FT): 104x33.8x9.8
Price(FOB):$0.00
Product Details
This playground sets four different area, the main play sets have climbing wall on corner and one ball plastic area, one ball pit and trampoline, also some small toys and obstacle game. then near the reception room have football game and toddler play house. opposite to the dodor is rest area for parents and birthday part.
Design for Engineering & Consulting Incorporated Co.
Naz City Building J No:13 Erbil/KRG/IRAQ +90 532 688 90 73
Give The Best Play Equipment To Your Kids - Swing
Children's mood is the biggest concern for every parent. They always worry about their children whether grow up happily. So in their childhood, the parent are more care about the children's mood.They want their children have a good childhood. Choose a good play equipment for them could be a solution.
All children like play at swing. So the parents always face a problem is that how to choose a correct swing for children.
Are you looking for a swing set with ability of installing it inside your home, perhaps inside your kids playing room? Indoor swing set for kids is a great idea because swing is fun, convenient and very easy to set up. Whether you own the house or have just got it on rent, you can safely use these sets. They simply fit between the floor and ceiling of your house or apartment and cause no damage to the walls, floor or ceiling. If you check out the Pegasus model, you will see that the swing is in the center which not only provides balance and equilibrium to the whole structure but also gives additional security to your kid while he is swinging.
Kids have a lot of energy that they need to burn off. Indoor swing sets provide them a way to do that.
As a parent, safety of the kids comes first. We realize that that's why we incorporate the best possible safety precautions in our products. However, there are lots of things you can do as a parent to make the experience better. Get involved! Make up a silly contest like who can swing the fastest or the highest or even who can swing the longest. Kids love playing games and they love it even more when they think it is a contest. Think of how motivate your kids when you invited over the neighbors for a little competition? This will not only spice up your kids' motivation but will also help in doing some fun exercise without thinking of it as a burden.
So buy a swing to your home and surprise your child or children with an indoor swing set. They are a great gift to give for a birthday or Christmas when it is too cold to be on a swing set outside. The best part about having the indoor swing set is you don't have to constantly be outdoors with your children or always running to a window to check up on them. Parents can sit back and relax or even clean the house while the kids are safely right by playing on their very own indoor swing set.
I think the parents can know give the children what kind of swing.The indoor swing is easy to set up.And It's very convenient whenever your kids want to play can play.Indoor swing will bring you the best swing fun.you are worth to have this kids play equipment
Copy right by Angel playground equipment©, please site the origination when you quote the information!
Reviews


Mdm Nur Says:
Would like to know the cost of an indoor roleplay playground..please email as soon as possible...

Angel Playground Equipment CO.,LTD Says:
Thanks for contact Angel playground! We will share you more details by email.


Mdm Nur Says:
I would like to know d cost for indoor kids roleplay house with the road, trees, and others..reply ASAP..tq

Angel Playground Equipment CO.,LTD Says:
We will share you the catalogue in email!


Tourino Says:
I have small open space of 58sqm (10mx6m), looking for suitable soft play product from your company.

Angel Playground Equipment CO.,LTD Says:
Hi Dear Please share me your 58sqm place layout. We can design for you and give your exactly quotation.


tammy keesey Says:
I need infor. for starting indoor playgrand

Angel Playground Equipment CO.,LTD Says:
We will send the process of indoor playground to your email


Mohammad nadeem Says:
I want to open new place and looking for things that I can add?

Angel Playground Equipment CO.,LTD Says:
Hi Dear Thanks for contact Angel playground. Do you have layout of your place? We can design for you! Jason will share you the process of indoor playground to your email.
Add a Review
Your Phone & Email address will not be published. Required fields are mareded*